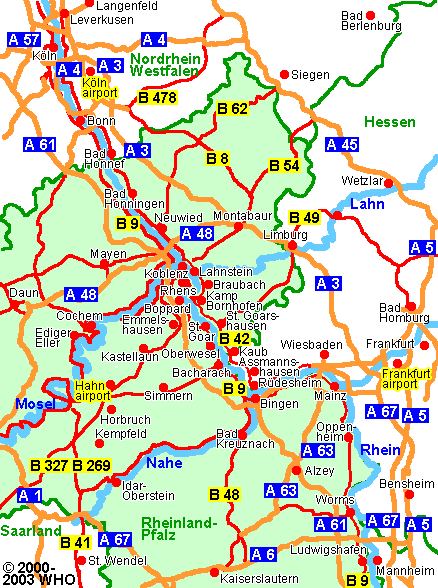 Hahn airport is in Rhineland Palatinate in West Germany.
Hahn airport is in the Hunsruck mountains between Mosel, Moselle river and Rhine river.
Hahn airport is very far from Frankfurt airport and Frankfurt city.

Frankfurt is near the Main river in Hessen / Hesse in Central Germany.

Romantic german Hotels near different Medieval Castles and Castle Ruins in Germany german-romantic-hotels.com

Apartment Listings Germany - holiday flats, holiday houses, vacation and travel apartments, rentals, lodging, accomodation, holiday villa, holiday home apartment-listings.com

Medieval Castles in Germany:
germancastles.com

Germany Tourism:
Map of Germany - Germany Travel Net Pictures

Rhine River Cruises, Germany, between Cologne, Frankfurt and Heidelberg
vacation-package.net

If you are coming from Frankfurt airport and if you are travelling by railroad,
take the train from Frankfurt via Mainz to the Rhine river

Rhine river valley Hotel Pictures between Cologne and Frankfurt
www.loreleyvalley.com

Bed and Breakfast & Inns on the Rhine river between Frankfurt and Cologne

Romantic vacation | Knight's meal in Germany

Vacation packages for Christmas and New year's eve:
Romantic Hotels, Castles, Apartments, Holiday Flats, Bed & Breakfast, New year's fireworks

Available hotel rooms and apartments for Christmas, New Year's eve, New Year

.